2022 Home and School Auction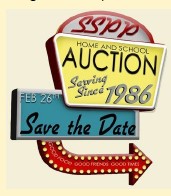 The 36th Annual SS Peter & Paul Home & School Auction will be Saturday, February 26, 2022.  
A dinner of steak, potatoes, green beans, salad, dessert, & drinks will be served from 5:30-7 p.m.  Cost is $20/person. The live auction will start at 7 p.m. and silent auctions will go all night.   Click here to view auction booklet.
Mass Time Change: Mass on Saturday, February 26th will be at 4:30 p.m. instead of 5:30 p.m. to accommodate the auction.